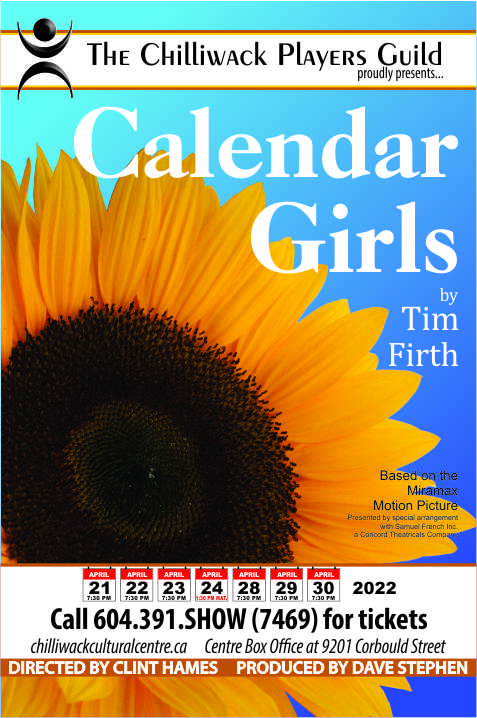 Date:
April 21, 2022 - April 30, 2022
Time:
1:30 PM; 7:30 pm - 10:00 pm
Location:
The Chilliwack Cultural Centre
9201 Corbould St., Chilliwack BC
Price:
Adults: $25.00
Students and Seniors: $20.00
Tickets:
http://www.chilliwackculturalcentre.ca/
Directed by Clint Hames
Produced by Dave Stephen
Presented by special arrangements with Samuel French Inc., a Concord Theatricals Company
---
About The Play
Cast
Production Team
Photo Gallery
Scrapbook
Based on the true story of the Yorkshire women who pose for a calendar to raise money for Cancer research, Calendar Girls has become the fastest selling play in British theatre history.
After the previous year's fundraising calendar featuring local bridges raises a paltry sum, the members of the Knapely Women's Institute persuade one another to produce a charity calendar with a difference. They decide to pose nude for an "alternative" calendar.
Puzzling their husbands, mortifying their children and riding the wrath of the outraged WI, the calendar becomes a huge success sparking a global phenomenon.
A very English story with a very English heart, Calendar Girls is quirky, poignant and hilarious.
Director:
Clint Hames
Producer:
 Dave Stephen
Stage Manager: 
Ann Marie Blessin
Assistant Stage Manager: 
Trisha Knight-Good
Stage Crew: 
Barb Funk, Maggie Saunders
Set Design / Set Painter :  A
strid Beugeling
Painting Assistant: 
Nora Rackliff
Set Construction:  
Graham Archer
Set Construction Crew:  
Rick Funk, Bob Audet, Wayne Dickson, Bill Reveley, Pete Vischer
Costume Design Concept:  
Susie Sroka
Costume Design / Construction:  
Mary Spani
Dressers:  
Judy Weller, Yvette Howard, Debra Archer, Dianne Donovan, Robyn Kragh, Lynne Wells, Astrid Beugeling, Mary Spani
Props / Set Furnishing:  
Laura Hames, Debra Archer, Graham Archer, Rick Funk
Lighting Design:  
Clint Hames
Lighting Operator:  
Hayden Simpson
Sound Design & Recordings:  
Clint Hames, Denny Larochelle
Make-up & Hair:  
Carol Popove, Astrid Beugeling, Maddie Karden
Publicity / Sponsorships:  
Dave Stephen, CPG Marketing & Promotions Committee
Poster & Graphics:  
Graham Archer
Program:  
Sandy Tait
Photographer:  
Douglas Morley